As Charles Eames said wisely:
The role of the designer is basically that of a good host, anticipating the needs of the guest.
Taking this role of designer and hostess to heart, I decided to apply the principles of positive psychology I'd learned from a class on Designing Happiness at the Stanford GSB to my own wedding.
First impressions
Just as a reader's impression of a book can be formed from the first and last pages, the first and last parts of an event leave the biggest impression on guests and have the most impact on happiness. Additionally, the happiness from anticipating and remembering an event can be just as meaningful as the happiness that comes from the event itself.

The first interaction with the wedding "brand" comes from the invitations and the website. I took care to make the invitation a precious experience, working with Studio on Fire to letterpress the print materials and learning calligraphy to address the letters.
Why wait until toasts to drink champagne? We decided to serve bubbly as guests arrived, and had my sister hand out flowers to welcome people. Guests were already enjoying themselves before we walked down the aisle.
Small snacks
It's hard to be happy when you're hungry. There was actually a study that correlated a prisoner's chance of parole with how hungry their judge was. We made sure to have food and drinks available at every opportunity – including Swedish Fish as centerpieces.
The cake
We had the privilege of working with Gateaux, a company that takes cake creation very seriously. The gears and graph paper in our wedding brand was a nod to the fact that we're nerds; our cake told the story of how we met at the MIT Media Lab, where Kyle proposed to me in the same elevator there where we'd had our first kiss (a tricky feat, given that we lived in California by then). The bride and groom robots are putting up letters on the top like it's a hack (prank).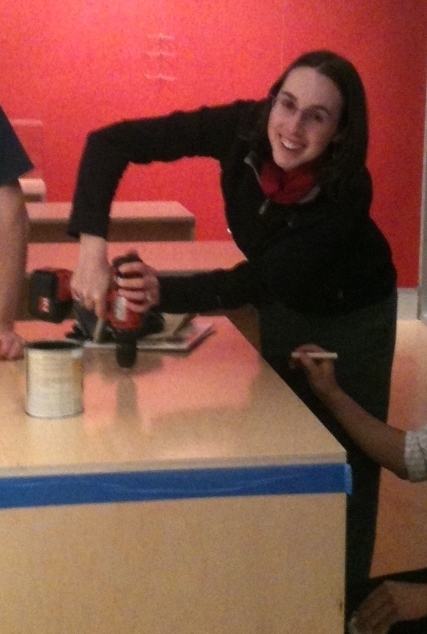 Positive psychology doesn't have a lot to say about cakes, specifically, but I do know that this part of the wedding made me very happy.
The program
Everyone wants to be a part of the day. We designed a program that included a data visualization about where our guests flew in from, and gave them a cheat sheet on who our family members. The program was a huge hit, especially with babies.
Shelly Paulson took nearly every photo on this page. She's an amazing photographer, and I can't say enough good things about her sense of humor, grace under pressure and obvious talent.